Well not really, but I have been doing some shopping. I'm almost done with my hooded baby sweater
I'm pretty excited, since it's my first sweater and all. I'm a little worried about seaming, but know some folks that can help me if I get stuck.
Easter in GA was nice, though it rained most of the time. We did get to go to the zoo
This guy cracked me up! He was doing some serious people watching.
While I was there I taught my hubby's cousin to knit! We didn't have a whole lot of time, but she was casting on and knitting like a pro (purling will require some practice) by the time I left and I bought her a copy of Stitch n Bitch for her birthday. We took a trip to
The Yarn Garden
in Lawrenceville. Nice little shop with friendly people. I picked up some Blue Sky Alpacas
Organic Cotton
. Boy is that stuff soft! This is also the shop where I discovered my newest love...Addi Natura needles! These things are awesome! I still like the Turbos, but when you are dealing with little, slippery yarn the last thing you need(well it's the last thing *I* need anyways) is little, slippery needles. The Naturas are perfect!
I ordered some cotton chenille from
Numei
and it showed up on my doorstep in a flash. Great price too! My mom is getting some of the reverse bloom washcloths for mother's day, along with a basket of bath goodies. I ordered some pretty bright colors
I need to get started on those...
My next *big* (first *big* actually) project is going to be the Alphabet Blanket out of Debbie Bliss' Baby Knits book. I got some King Tut cotton from
Knit Happens
. I'm kind of nervous because it's chart knitting, something I've never done, but I'm not scared! Ok, maybe a little...but I'm not gonna let that stop me! I know I can do this, so what my kid might not get it until he starts high school?
Have you ever wondered what a day of yarn (and other) shopping does to a 4 year old?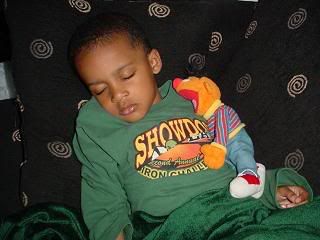 I'll leave you with a pic of my boys...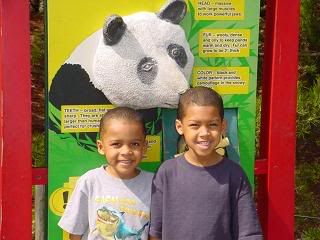 ...just because :o)