I'm supposed to be packing. Well actually I'm all packed except for my knitting. What do you take for a fun~filled holiday weekend with ALL of the in~laws? I'm thinking socks? Perhaps I'll finish the mate to this one...
Here's a close up...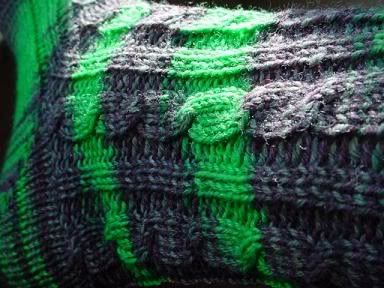 I really like how it came out! I know the striping is a bit bold for the cables but that's ok. I used the magic loop method and cabled without a cable needle so I'm pretty proud of myself for using two new techniques in one project!
The other reason I'm thinking socks is because I got Nancy Bush's Knitting on the Road as part of a swap and since I'll *actually* be (you guessed it)knitting on the road (LOL) I find it fitting. I've got some really pretty handpainted sock yarn that I got from one of the (not so)LYSs but it needs to be wound and I'm behind schedule as it is. Looks like the navy Kroy will get packed up! Maybe something lacy since it's a solid? I've also got some solid red on it's way to me from a friend. I think I might join that solid sock KAL (or something like that, I saw it while surfing yesterday)!
Perhaps I'll pack some yarn for hats and wristwarmers too. I'm determined to get my youngest child to wear a hat even though he takes them off and throws them. How sad is it that the child of a knitter won't wear a hat?
My hourglass will come along too just for the heck of it. I'm sure she'll enjoy the ride and maybe even get pulled out during those destracting gab fests (not that these are bad or anything)with relatives :o)
Ok, so what I'll only be gone 5 or 6 days? A knitter's got to be prepared!
Enough procrastination. I must shut this thing off, get my yarn together, and go to bed. 4am will be here before I know it. Come to think of it I'm packing a pillow in with my yarn.
I wish everyone a safe and happy holiday weekend! Don't get mauled if you shop on Friday, don't eat too much, and don't get too drunk!