Why are there always dryer sheets all over my house? Granted as a family of 5 we do a lot of laundry, but there seems to be a ton of these stupid things just floating around. I'm forever picking them up. Do they multiply on their own? Do they show up to replace the socks that have disappeared by way of the dryer? The world may never know.
Why do kids have phone radar? The minute the phone rings there is some 'urgent' problem that needs addressing (like needing a snack RIGHT NOW), the baby starts hollering, or the kids are trying to kill each other. Multiply the drama times 10 if it's actual business, and not just a friend or my mom.
Why is it so flipping hot outside? Doesn't mother nature know that the only way to preserve my sanity is to let the kids out to play? Doesn't she know I can't do that if it's a million degrees?
*sigh*
I'm almost done with the little green vest, just some seaming and stitch 'picking~up' (?) to do. I let the boys look through my books to pick something for mommy to knit. My 4 year old chose the pirate sweater out of
Adorable Knits for Tots
. Apparently this is the end of the season for cotton (or so I was told by one of my LYS~what about those of us who are year round cotton knitters?), so I couldn't find the Rowan the pattern called for. I'm sure I could have ordered it but I'm an instant gratification type of gal so I went to
Springwater Fiber Shop
and picked up some Tahki Cotton Classic. It seems to have slightly more sheen than the Rowan Handknit dk but other than that it's identical...and was only $5/skein! My 6 year old chose Max from
Junior Knits
. I haven't decided yet if I'm going to use Mission Falls Superwash or the called~for Debbie Bliss Merino Aran. I have some time to decide, since the pirate sweater will be my first attempt at intarsia in any way, shape or form. I'm sure it'll take me a minute to complete :o)
The orange blanket? Don't ask.
Tonight is knit night at Folk Art. Last week we recieved some bad news...the shop is closing. So, we're looking for a new place to host our group. I started a
yahoo group
today in oreder for us to keep in touch and distribute info. Hopefully this will also bring us some new recruits! It's a work in progress, but if you live in Southern Maryland check us out.
Kidlet news...soccer started this week. Too bad it's hot as hades and all the kids look like they are being tortured on the field. School starts next week. Since we were (well, thus far) unsuccessful in finding an appropriate (and affordable) preschool program for my 4 year old I'm prepared for him to complain about being bored.
Baby news...Isaiah will sleep for about a 5 to 6 hour stretch if he is either a)in his bouncy seat or b)in our bed. Apparently the bassinet is some sort of evil contraption since he starts hollering as soon as we put him in it. He's smiling and starting to be a little more aware of his surroundings.
Due to the lack of pictures in this post I leave you with this...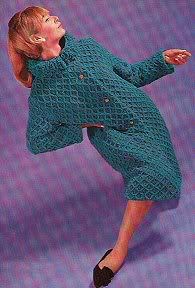 Umm...ok. What is she doing? Is that her sexy pose? What is she wearing?!? I guess at one time, years ago, such garments were considered Hand Knits for Young Moderns. You can view more fabulous frocks
here
.
You want a coat like that, don't you?
;o)