..for finishing!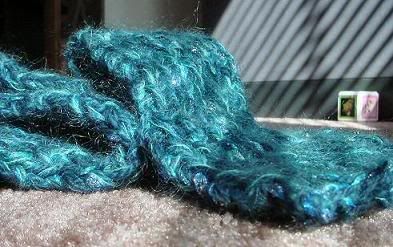 My youngest sister's birthday is right around the corner and what better way to whip out a quick gift than to use three different yarns held together on US15s?
I based it on the Purl Scarf from LMKG, but didn't add any fringe or use any of the called for yarns. As for the yarns I used, well, the only label I have in front of me is the Plymouth Baby Alpaca Worsted. I also used some sparkly Feza yarn that came in one of the biggest balls I've ever seen, and some mohair that has something like a 450yd put~up. I've got enough to make a whole 'nother scarf, which is good since Christmas is coming and my SILs favorite color is blue :o)
Normally I wouldn't have given the sprakly, er...sparkly stuff a second glance and mohair is definitely not a favorite but together it works. I really like it! More than I thought I would actually.
I'm thinking that a FO was just what I needed to push me to finish my holiday knitting. I still have to finish a Swallowtail Shawl and a baby sweater for the boys teachers, a cabled scarf and some fetching for my middle sister, and figure out what to give the little one since she's getting a scarf for mer birthday. Add my SIL to that list and I'm going to be kind of busy for the next few weeks. The men folk (the BILs) will be getting gift cards or something.
I'm starting to feed my new hobby. No I didn't buy a wheel (lol), but I did but a new spindle and some fiber from
The Spunky Eclectic
. It seems as though bottom whorl is not my thing, as I'm having the worst time with the little spindle I got from Kid n Ewe. I like the Ashford but it's really heavy. Hopefully I'll like the
Little Si
.
In other news...I'm tired (hey, I didn't say it was breaking news), I need to start my holiday shopping and get my house decorated since my B&SIL are coming for Christmas. I got a coffeemaker AND a microwave. Oh, and Phoebe is coming home today!!
Some of you may remember way back when
reading about my cat
. Well when we came out from DC she stayed behind because it would have just been to difficult with the hotels and temporary housing and whatnot. My friend Donna was her foster mom for a few months (thank you Donna!!!) and I love her for helping me out. She's on a plane as I type, headed this way! Yay! I can't wait to see her :o)
Next time hopefully I'll have more FOs for you!