Erica!!
Congratulations to you! I've checked out your blog and will be joining the Military Web Ring. Looks like we have some things in common...the military thing, the SAHM to boys thing, and especially the trying to stay sane thing :o) Email me your address and I'll send you a (knitting related, of course!) surprise!
Now the name picking thing was a family affair as are most things I try to do anytime the boys are awake. My oldest wrote the names, my middle guy folded them up and shook the pot (I couldn't find a hat this morning), and the baby got to pick the name. After dumping all the names out and running off with the pot he got the hang of it and chose two names after Erica so my little contest has a 2nd and 3rd place! WooHoo! Congratulations to
Kerry
and
Janna
! You'll both be receiving a little something as well. Kerry, I have your addy and Janna I'll see you in person so I don't need yours. Unless you *want* me to send it? Or I can come by for coffee...
I promised a finished object didn't I? Here she is~Crumpets!
The front...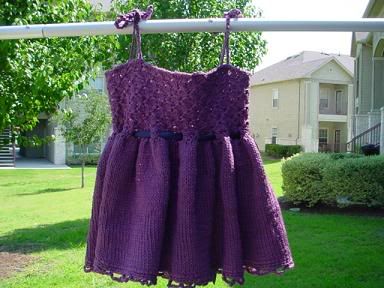 and the back..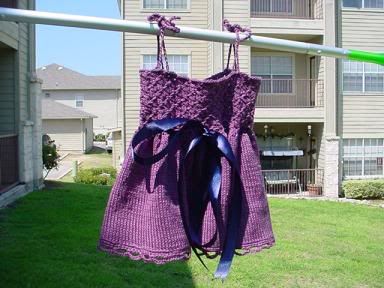 Yes, that's a Swiffer handle. I didn't have a hanger small enough :o)
The pattern is
Crumpets
from
chiagu.com
. I made the smallest size (6mos.) and used Sinfonia yarn from Hobby Lobby on US5 Crystal Palace circs. I started out with my Denise interchangeables but the cable was too fat and I was getting too much of a workout forcing the yarn along. I worked the pattern as written except I added another row of crochet before the decorative loops at the bottom. Oh yeah, and I changed the length of the loops.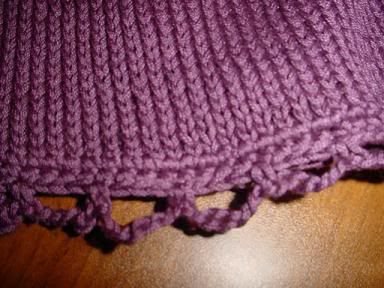 What's that? Who am I knitting a little dress for? LOL! We're going to a baby shower later on today. Out of the three couples we've met by way of DH job two are expecting! We've also got a cousin due in Sept., and two good friends that just had babies. I bought Rowan Babies last week and see much knitting of little garments (and maybe a toy or two) in my future.
Speaking of little garments, I'm working on the Striped Tank Top from Adorable Knits for Tots. I'm using three different shades of blue Rowan DK cotton. I didn't buy as many colors as the pattern called for so I'm making up my own striping sequence as I go along. So far so good~I'm almost done with the front.
Other things on my needles? Still working on my Hill Country Yarns socks. I'm really trying because I love the yarn and the pattern, but it's like 100 degrees everyday. Do you know how hard it is to think about putting wool on my feet?? My Honeymoon Cami had stalled because I hadn't printed out half of the pattern. Duh. Now that my internet connection is back I will pick it up again. I'm also still working on Ruby and Orangina, Ruby more so than Orangina. Orangina just doesn't seem to be getting any longer, no matter how much I knit. I believe I'll give her a time out for a bit.
There's so much for me to catch up on! New patterns! Blogs! Pictures of yarn and knitting!! Boy did I miss my 'puter
And you guys! I missed you too...kisses to you all