That little crumpled pile in my last post is Evelyn Clark's FBS. These photos are the best I could do considering my 'help' was trying to grab the camera.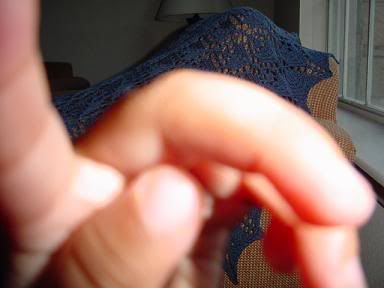 Oops! Baby fingers...
Hey! Get back here with that!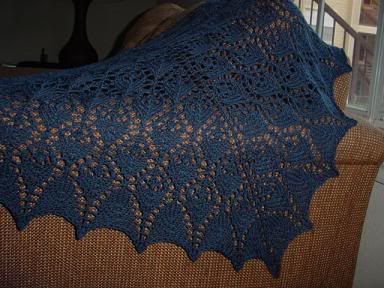 Okay, that's better.
Here are a couple of close~ups...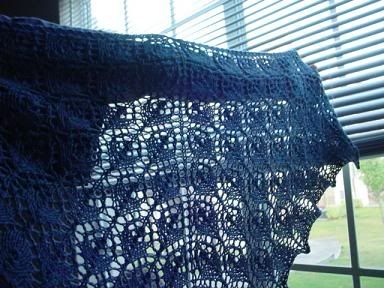 and here...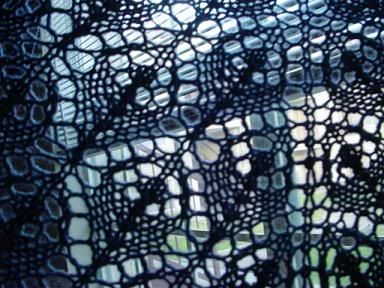 I used way less than 2 hanks of KnitPicks new Gloss in Dusk. I probably could have added another repeat, maybe even two. I followed the pattern as written and used Inox circs in a US7.
I'd call this a pretty easy pattern. It was really easy to identify any mistakes, and fix then without having to frog. Thank goodness because I was a rebel with no lifeline.
We have a meeting with our house builders today. I'm not a happy camper because they keep pushing our closing date back and, well, I'm in a one bedroom apt with three kids (and one husband). I've got to get up out of here. Yesterday I went to the office and heard the same song and dance about not wanting to skimp on quality for speed. Well they can kiss my a s s because I've seen no action in or around Chez Busy for the past couple of weeks. I told DH he has to do all the talking today since I'll be too busy biting my tongue.
We've also got not one but two flag football games later on today. The boys are super excited :o)