That's where my sock pal sock is.
I should have seen it coming. Friday afternoon I tried it on and it was a little snug but I pressed on and turned the heel. It all went downhill from there. My pals feet are just a teench (hubby's word) bigger than mine and if I couldn't wear them comfortably then, well, you know where this is going. I can't figure it out! This is one of the times I actually checked my gauge..LOL! I took the sock, the needles...even the book, and layed them off to the side and tried not to freak out.
I didn't think about socks again until Saturday morning. Too painful. *sigh*
Saturday afternoon I cast on for the
Hedera
socks (ok, so the fake leg is a little freaky, but check them out on a
real
live
foot
) with the Baby Ull I had bought for the Spring IK lacy socks. This is what I had by Sunday afternoon...
And by the time the Sopranos came on I was completely done with the first leg. Here's a sort~of close up of the stitch pattern (upside down but hey..)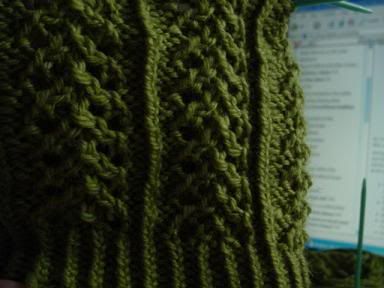 I'm absolutely loving this pattern. Easy enough to memorize but not boring. I really like working with the yarn too. Also, the pattern is really stretchy so it doesn't look like I'll have any problems :o) I'm going to make a pair of these for me too!
My lacy Nancy Bush socks aren't forgotten. I'm sure I can do some math and rework the heel to make them fit but unfortunately I don't have time for all that right now. I can always just give them to my mom, her feet are smaller than mine.
The baby and I are headed ot to San Antonio in the morning. Design studio stuff for the house. My sock will be coming with and hopefully I'll have some knitting time after the little guy falls asleep at the hotel. Wish me luck that I can keep a 9 month old occupied during a 4 hour flight.
Other projects?
I've set Somewhat Cowl aside until I'm done with my socks. Same with the brown project I've been working. At the rate the socks are progressing though I should be done in no time so I can finish these other two. I joined the
Green Gable KAL
and hope to work on that along with Orangina next month. The orange blanket? Yeah, it's not getting any longer.
On my trip to NY I managed to hit
Purl
,
Morehouse Farm
, and a little out of the way place that does everything in house...shearing (and all the stuff that goes with cleaning and carding and whatever...I have no idea), spinning, dyeing...all that. They actually gave me a peek at how it all works. Interesting.
I'll have picks of my haul next time. Right now I need to get off of this computer and get ready for my trip while the baby is sleeping. It's so much easier to sit here and not think of all the stuff I need to do.
See y'all when I get back.