...and sometheing brown.
In honor of Project Spectrum's color theme for March, I've decided to (attempt to) tackle The Orange Blanket. Some of you may remember TOB, and how it went from being the Hearts and Stars blankie from Adorable Knits for Tots to being known as the orange monster. I tell you no matter how much I knit on this thing it doesn't get any longer.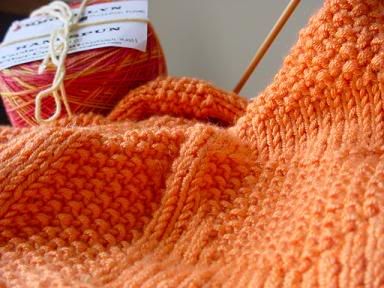 I'm thinking I may call it quits after this month. I mean just bind off on the 30th and give the baby his stubby little blankie.
If you notice, my skein of Brooklyn Handspun sock yarn is posing along with TOB. I'd be kidding myself to think I would have time this month to knit another pair of socks. I just though it was too pretty (and yellow and orange to boot) not to be in the pic. Maybe on the 30th after I bind off my stubby little blanket I'll pour myself a glass of wine and stare at it, thinking of what could have been.
My something new is the Mason~Dixon book. I love it! Chock full of ideas and wonderful stories...all kinds of inspiration. Which leads me to something brown, but you all are going to have to wait until I get back for that. We're all going to NY this weekend to see my family. My SockapalOOOza socks (I'm now about to turn the heel on the first one) will come along for the ride as well as my brown project. I'm close to being done with my Somewhat Cowl but I think she's gonna sit this one out. I'll finish once I get further on the socks.
I'm hoping the weather cooperates because I'm trying to get to Purl, Schoolhouse Products, and the Morehouse Merino Farm before we come back on Monday! Have a great weekend!
PS....the sale a couple posts back? Nothing spectacular. Knitter's are a speedy bunch. Most of what I wanted was gone by the time I got there, and I got there 2 hours after they opened on the first day!