It's been a very knitterly few days around here! I got to see the
Harlot
, shop (and drink beer)at
Hill Country Weavers
, and rediscover some (old) yarn for new projects. First off, here's my Honeymoon Cami...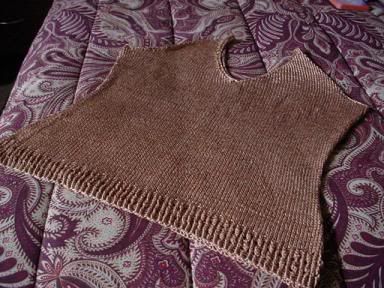 I gave you all most of the particulars in my last entry. It's very slinky and soft! I'm still on the hunt for the perfect bra ;o)
On to more exciting stuff~my trip to Austin this past weekend! It was my first time and it was hot (go figure). Seems like it would be a pretty cool place to hang out for an afternoon in, say, January when it's not stifling. Anywhoo,
Jana
,
Mary
,
Amy
, Claudine,
Susan
,
Kim
,
Enid
, Ken and I arrived early enough to sit right up front! Ken was super excited...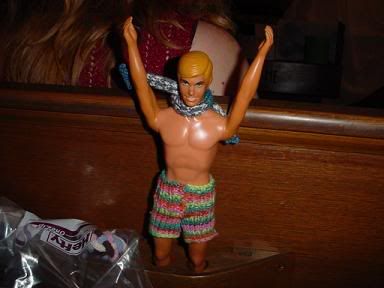 He was trying his hardest to get everyone to join in and do the wave with him, but we were all too busy knittng...
and taking pictures of each other knitting.
Stephanie took a picture of us all with her sock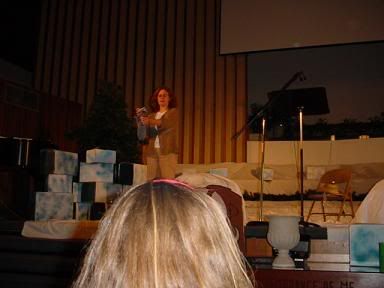 and then she spoke to us for about an hour, answering questions at the end. She was great! So down to earth and everything she said was so true.
The book signing was held across the street at Hill Country Weavers, complete with beer and snacks. Really, does it get any better? After I got my books signed (one for me and one for a friend) I sneaked in for a pic...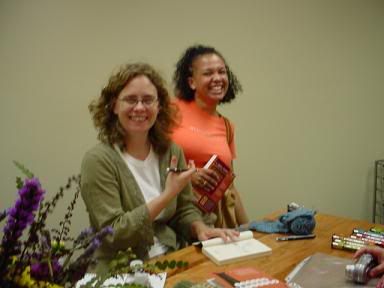 After we all got our books signed it was time to do some shopping. I bought some Inox circs to try out (which I like, BTW), some Silky Wool and some Royal Silk...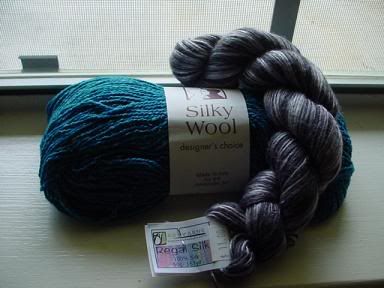 Mary and I have decided on a mini KAL for
Picovoli
with the Silky Wool and I think I'm going to make a Counterpane bag from Handknit Holidays with the silk (yes, I bought more than one skein of each...LOL). I wonder how much $$ HCW weavers made on Saturday?
Then, after the shopping we walked on down to
Guero's
for lunch. Only about a block and a half away but in the heat felt like a couple of miles!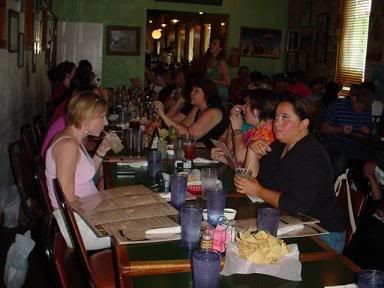 There we met up with a bunch of knitters (thanks
Christine
!) for margaritas, bloody marys, and (well in my case anyways) lots of cheese.
By the time I got home Saturday I was exhausted! Thanks Jana for driving and thanks to everyone else for making the weekend such a fun one :o)
The Queue
I'll talk more about the queue in my next entry, but the two projects that will be started right away are Picovoli and the
Ballet Camisole
, without the gathering. I plan to use Knitpicks Shine Sport in Sky that's been in my stash for a while for the camisole. And guess what? Amy, you'll be so proud...I swatched!!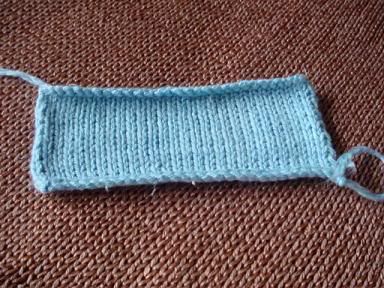 Not only did I swatch, but I washed
and
dried it. Not to mention the extra durability testing the washed (and dried) swatch recieved from a certain little crazy person...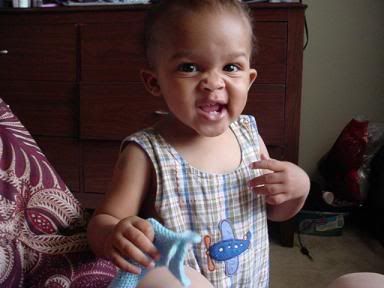 So now I know if anyone attacks me, scrunches up my camisole and tastes it while I'm wearing it I'll still look pretty good!