Today is the first day of Project Spectrum v2. Ok, technically it was yesterday but I'm still up so in my mind it's still February 1st.
I've got a couple of things in honor of the color blue. Blue is a pretty important color around here. I'm sure I have lots of blue stuff I can take pictures of, I definitely have lots of blue yarn. And fiber. Wanna see what I did with some of my blue fiber?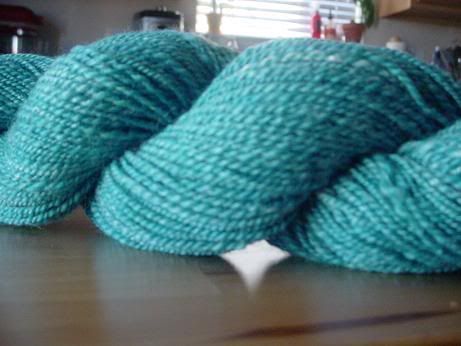 Sorry the picture is a little blurry. It's the third yarn I ever spun up on my wheel. It's a merino/silk blend. I was able to get it pretty thin and I'm very happy with it. So happy, a bought more of the merino/silk in a couple different colors. I think this skein might be a gift for someone :o)
Here's my first* wheel spun yarn...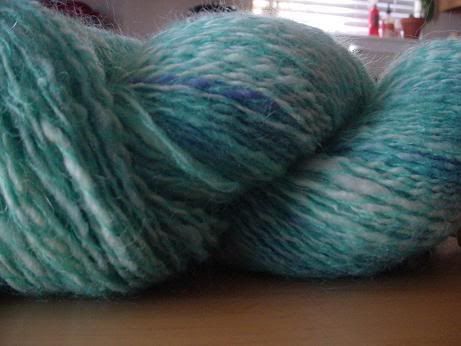 It's BFL from
The Spunky Eclectic
plyed with commercial mohair. It's the hugest.skein.ever. I have no idea how many yards it is and no idea what I'm going to do with it.
My second ever wheel spun yarn is orange merino (and still on the bobbin) but since this month is all about blue/gray/white it'll have to wait for it's turn in the spotlight.
*
technically I spun about a quarter of an ounce of white corriedale before I did this but I'm not counting that. You can see it on my wheel a few posts back.
I'm also knitting a pair of green socks (Go with the Flow...IK summer '05) in CTH for Lolly's green sock KAL...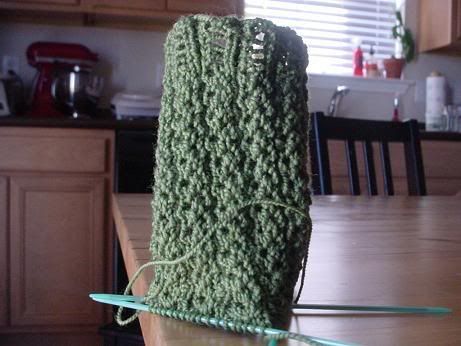 Since that picture I've gotten a little further on the leg and traded out the plastic needles for Crystal Palace bamboos.
Thanks for the nice comments about my new design. I've cleaned up the sidebar a bit, joined a few new KALs and opened a Flickr account. I've still got some work to do, like figuring out my some of my rings look all funky. Right now I'm just happy that most of what I want is in place.
In knitting news I've got a Central Park Hoodie, a Manly Sweater, two pairs of socks and a shawl on the needles. The shawl is a simple rib, for DHs grandmother who had to have heart surgery. I need to get it done and in the mail ASAP. It's moving along though since it's on us15s!
Almost forgot...there's two baby sweaters languishing as well, each one waiting for a sleeve.
That's not too bad, right?