Yay!
Ok, in the past I pulled names out of a hat. This time however there were so many of you I used a random # generator!
Let me first say thank you for all of the support. I'm not as upset anymore because I don't think about it. As a matter of fact, I plan to delete the post with the story. It's ugly. Maybe I'll replace it with a picture of some kittens or perhaps some puppies...where was I? Oh yeah, ugliness. It was brought to my attention that I am no saint. Well of course not, never claimed to be. However there is no excuse for what happened. Actually it was also brought to my attention that firing one employee to be fair to other employees who 'need the money' or have that job as their 'only source of income' is illegal. But whatever. Here I go again and I said I was done. Here's a pic to change the mood...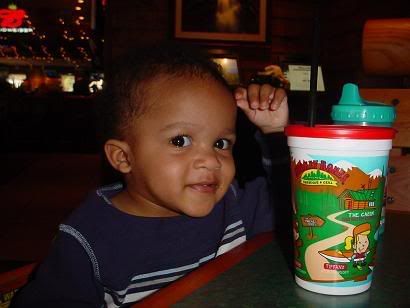 Now on to the good stuff!
Prize #1 is a hank of sock yarn from
Lone Star Arts
in the Burn colorway and it goes to.......Trillian42!
Prize #2 is a set of stitch markers made by
Susan
and they go to.....Rincaro!
Prize #3 is a pattern by the small or indie designer of your choosing and that goes to....Anne-Caroline!
Prize #4 is a skein of Fleece Artist sock yarn in the Forest colorway and it goes to.....Daryl!
here is a pic of the sock yarns...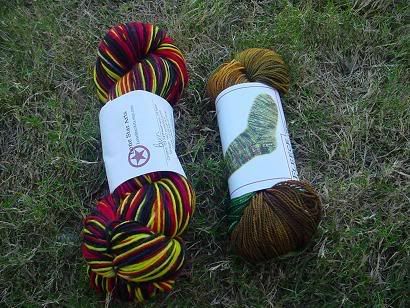 I don't have the markers in hand yet and I'll let you guys know what pattern Anne-Caroline chooses. Thanks everyone for playing! I've always said there's nothing like a contest to bring lurkers out of the woodwork ;o) Everyone send me your addresses and I'll get your prizes in the mail.
Remember I said I'd been knitting? Well here's some progress on Wicked...
I was on a roll but fatigue and illness slowed me down. Now that I'm on the mend (though my voice is nowhere to be found)I hope to be finished before the end of the coming week.
Have a great weekend!