You know, about grocery shopping when you're hungry? Well did you also know the same holds true when you go to
Knit Happens
*just* to buy needles. I went with the intention of getting the Addi Naturas I needed (er...wanted) for my Ribby and started browsing. I had to take this home with me...
Why? Because it reminds me of Nachos. Nachos supreme to be exact. I'm sorry to say I haven't had
really
good Mexican food since we moved from Tucson and this yarn reminds me of the food at this little place called Filiberto's that we used to frequent (expecially when working the mid~shift!). It's Artyarns Ultramerino 6. The color # escapes me now but I'll be darned if it doesn't look like nacho cheese, tomatoes, green olives,and jalepeno peppers :o)
The night before the Olympics I started a sock. I couldn't resist.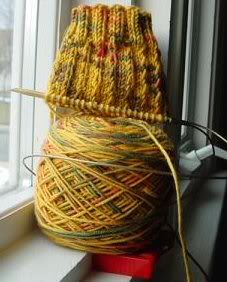 It's the Lava Flow sock pattern from
Sock Bug
. I love how it's turning out, and the Ultramerino is simply wonderful to knit with. I wanted to knit it all the time. I wanted to knit it late into the night. However, the Olympics were starting so I set my beloved sock aside to cast on for the Ribby Cardi.
Unfortunately, the odds are against me on this one. Not only is all that ribbing and stockinette making me want to stab myself with my new size 7 Addi Naturas, but this month has been crazy busy! So far we've had a birthday sleepover and an anniversary (DH and I hit 9 years last Wednesday), with another birthday on the horizon. Every Saturday is basketball and since the boys are on different teams we spend a lot of time at the gym. The weekends have also been filled with social obligations. When I do get a second to knit the Ribby Cardi is not my knit of choice. Add to that the pressure of a deadline and I'm one unhappy camper.
I want to knit my sock. I want to knit with this...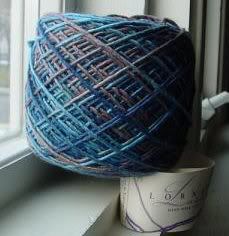 ...Lorna's Laces Lion and Lamb in the Jeans colourway. Yum! So what did I do? I set this aside
and cast on for Clapotis. I'm much happier now. I think I might even finish Clapotis by the Olympic deadline! I'm already almost done with the increase rows. Today was supposed to be my 'day 'o knitting' but my girlfriend called last night and needed emergency childcare. So I have an extra little person who screams every time Phoebe the Cat crosses his path *sigh*. Oh, and I'm really grateful that it rained just enough this morning to soggy up the playground equipment.