But here are my socks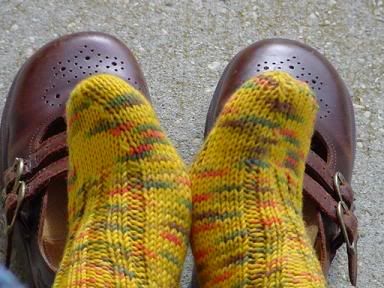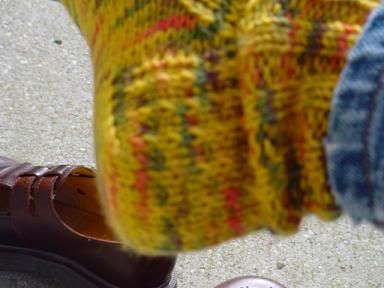 Sorry they're not the best pics, but my photographer was having issues. After 3 pics of the ground and one of my knee I took matters into my own hands. Taking pictures of your own feet while balancing a squirmy baby is not as easy as you'd think. Speaking of babies...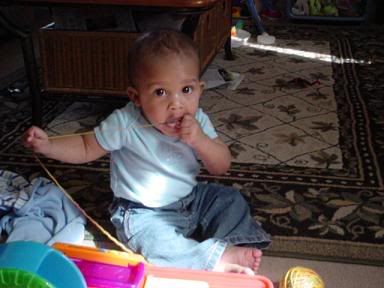 Now I know that I (like most knitters) have described yarn as 'yummy' and I'm not embarrassed to say I sniff it and rub it on my cheek. But I've never actually tasted it!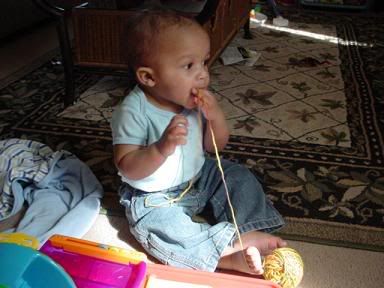 He cried when I wrestled it away.
As you all know, the nacho yarn is Artyarns Ultramerino 6. I used a US 3 needle and a basic 2x2 rib. These were my first heel flap socks, I've only ever used a short~row. Same for the toe. This one is a pointed (I think) toe from Knitting Vintage Socks. I wore them all day yesterday and they were very comfy and squishy, like a twenty~something~dollar pair of socks should be.
Project Spectrum is here!! I love color. I don't get to see a whole lot of pink around here unless it's something specifically for me, like my big 'ol knitting bag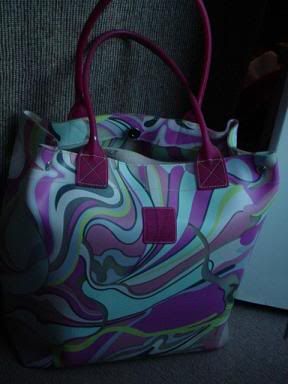 it started out as my work bag, then it was my travel bag. Now I throw my knitting and my Borders mug (which is also pink) in there. I love that it's plastic and it wipes clean. Funny thing is, this bag seems to get the most usage in the winter. I like to think of it as my 'little bit of Spring' when it's all gloomy.
As for red/pink projects I have all kinds of ideas swirling around in my head. My friend is having a baby (boy #4) and I'm making her a BBBB in red Cotton Ease. She's due the end of April so this isn't something I can set aside :o) I've also got some
ruby Alpaca and Silk
to make
The Somewhat Cowl
ans I want to make Jaywalkers with my flickering flame
Brooklyn Handspun
.
I've got one more project in the queue that falls under this months Project Spectrum idea. I finally got SockapalOOOza yarn! Louet Gems Pearl in Burgundy...so pretty! At first I wanted to make the lacy socks out of the new IK, but I fear they may be too short for my pal's tastes. There are a couple of great lacy patterns in Sensational Knitted Socks. The fancy silk socks (orsomethinglikethat) from Knitting Vintage Socks is in the running as well. I think I'll show a couple to DH, see what he thinks, and cast on tonight. As for getting to knit the IK socks? All is not lost. I picked up some Baby Ull in green to make myself a pair in May!
Since you all are dying to know the fate of the gunmetal gray Big Bad Baby Blanket in the King Tut cotton I won't keep you in suspense. I'm ripping it. It was too loose or something, I don't know but I wasn't loving it. I got to poking around online and found the
Prairie Blanket
. So I poked around a little more to find somewhere that wasn't going to charge me $4 to ship one pattern. I found
Carodan Farm
in VA who had very reasonable shipping. That alone made me happy but I was thriiled when my pattern came today with a little note that said they didn't charge any shipping as a little thank you to us for serving the country! How's that for thoughtful?
Thanks to
Nik
for the lightbulb tip and thanks to everyone who takes the time to leave a comment. I do enough talking to myself around here, it's nice to know at least *someone* is listening!