So short actually that I should be taking a shower, doing dishes, or putting dinner in the crockpot while the baby naps. But I tell you...he wears me out! Sometimes when I get him down I just have to sit and collect my thoughts. You would think that a mom of three boys would have it down by the time the last little guy shows up, right? Well I don't know if I forgot because his brothers were 4 and 6 when he was born but he runs.me.ragged. He's into everything. Days are a whirlwind of cheerios, CD cases (that he flings everywhere while his toys remain untouched), and hiding of the remote/phone/knitting so they don't get slobbered on. He'll yell and stomp if one of the boys has something and won't hand it over fast enough, food included, and at 8months is already standing for a few seconds at a time unassisted.
This is going to be the one folks, the one that does me in!
But I'm lovin' it
I decided on my SockapalOOOza socks and even started them!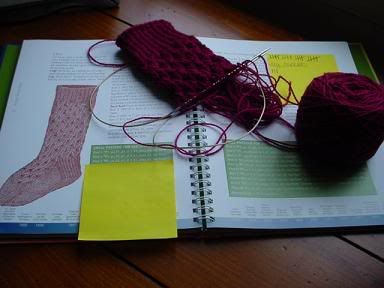 They're the Child's First Sock form Knitting Vintage Socks. Don't laugh at all my post~its. The pattern is pretty easy and straight foward, it's just that I usually knit for 5 minutes at a time during the day and this ensures I don't lose my place. Post~its, row counters, stitch markers...these are all a busy mom's friend. Oh and coffee, don't forget the coffee! Here's a close~up of the pattern...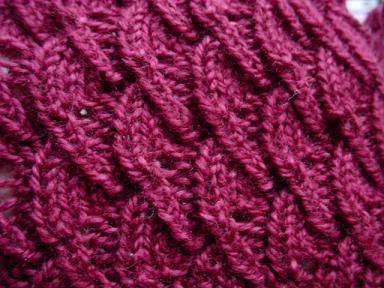 I must admit that I'm not really loving this yarn. It's not spun tightly enough for me and the little fuzzy spots are irking me. There was a knot too! But those are just Kim issues because the finished product is looking very nice.
I started on the Priaire Blanket using *gasp* Red Heart Soft in a cream color. This is a VERY enjoyable knit, from the yarn to the relaxing stitch pattern. I worked on it for most of the weekend. I should be able to finish by my mid~April deadline, just in time to do about 2 more. Good thing I like the pattern!
Ok, I've already gone on too long! I must go and tackle my 'chores' so that maybe I'll have time to knit this afternoon. Once again thank you all for your comments!