WooHoo!!!
Here's sock #1 without a toe...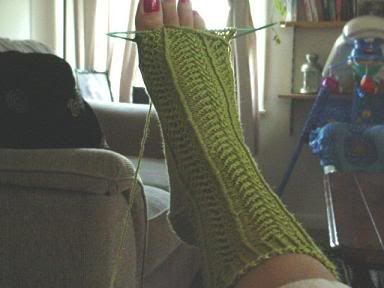 So I've got about a week to knit sock #2. Since I did the first one in a week with pretty much no knitting while I was in TX (about 2 days) I should be fine. DH has also been nice enough to give me a little extra uninterrupted knitting time since he knows I'm on a deadline :o)
I wanted to be sure to get my sock pal update in, but I've got to get going. Since I got up this morning and pretty much did nothing but feed the kids and graft my toe I've got dishes and laundry calling my name. I want to tell you all about my trip and I still need to show you what I got in NY so I'll be back. Until then, how about a cute baby pic to destract you?