came my socks!! WooHoo!
I'm sure the mailman thinks I'm crazy. He asked what was in the box and I shrieked, 'SOCKS! From
SPAIN
!!'. So he said, 'wow, those must be some socks.' I explained the exchange to him, most likely telling him more than he ever wanted to know and then I signed for my box.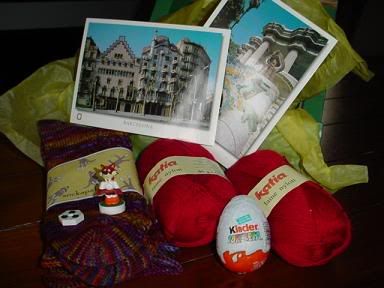 My pal's name is Betty and she lives in Barcelona. See all the cool stuff she sent me? First let me tell you all about the little guy standing on my socks. He came out of a Kinder Surprise egg. It seems as though I'm behind the times on these little gems because I'd never heard of them. But a quick google search produced a cult following! I can see why. The kids were super excited to see what was in their eggs, and can't wait for me to open mine :o) I must find a way to get more of these.
Also in the box was some red Katia sock yarn. It told me last night that it would like to become either a pair of Diagonal Ribs or some Go with the Flow socks. I also got two very pretty postcards and a wonderful letter telling me how she ordered the yarn for my socks from Germany(without being able to speak German and the site having no pics). So my socks were knit in Spain with yarn from Germany now living in MD and will soon be moving to TX!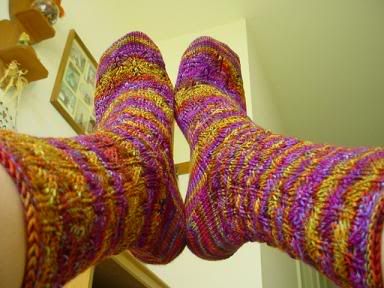 (yes, I'm laying on the floor in my entryway)
They are the
Elfine
socks, knit with
Rohrspatz und Wollmeise
. Aren't they pretty? I love them!!
Betty's
blog
is all in spanish, so mostly I was just able to look at all the pictures of her great knitting. But I was able to see that even with recovering from an
injury
she was able to produce socks with such perfect stitch definition...
Nothing makes me happier than nice, even stitches...just ask
Kerry
!
Betty, you are awesome! I love the socks and your package made my weekend :o) Since you say the sock yarn pickings are slim where you live maybe we can do a swap in the near future? For Kinder eggs!!
To continue on with the sock talk, I cast on for one last night and I need opinions. First I cast on for some Jaywalkers using self~striping Regia. I was getting some funky little holes at my increases and was getting irritated so I tossed it aside and cast on for some Madder Ribbed socks using Claudia Handpaints in 'Donna's Favorite' I didn't realize that the yarn would have such a nice striping pattern an am now thinking it would make a groovy pair of Jaywalkers.
I don't know that I want to rip out all my ribbing, but I'll make the sacrifice for a kick~a$$ pair of Jaywalkers*
*not that this is my only sock yarn, I have a bin full of it for crying out loud!! Just thought I'd ask though :o)
I know, I know...I promised you guys pics of yarn. I just haven't had the time to pose it properly...LOL! I will as I'm packing it all with tender loving care for the movers.
In still more sock news,
Purly
received her socks! That's right, she's who I knit for. Go say hi and check out her
shop
, Sundara Yarn. Beautiful stuff, and she's even got a new
sock club
!!