Do you have any idea how hard it is to find a doo~dad around these parts? I knit up the
Short Snort
Girlfriend Tank
out of the Cotton Fleece I had leftover from Green Gable for my friend's daughter (you know, the one that was in the pic with my little man?). The knitting was a breeze. I knit the entire body Thursday night and did the straps Saturday morning. I waited until the last minute because all I need is one of those little round numbers to bring it all together. So off I go to Hancock Fabrics and ask.
*blinkblinkblink*
Ok, so they have no idea what I'm talking about.
Wendy
got her doo~dad at Joann's so I figure I'll just go there.
*blinkblinkblink*
Do you have any idea how hard it is to explain what a doo~dad is exactly? I even tried thingamagiggy. Nothin'.
So now it's like an hour before my friend has to be at the airport (they are going to Vegas to visit family) and I'm driving around with an unfinished birthday gift.
In a last ditch effort I hot tail it over to another Hancock's in the area and what do you know? One lone package of doo~dads in the purse making isle. And they were half price...score!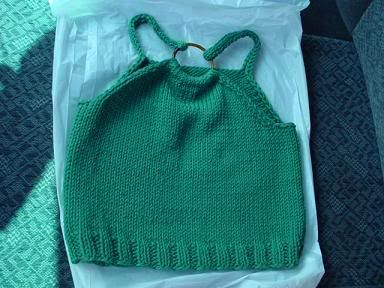 So I sewed it up in the parking lot and snapped the pic in my friend's driveway. Cute, no? It's a rare opportunity that I get to knit for a little girl :o)
I definitely recommend this little instant gratification project. I scaled it down a bit since the recipient is just a year old (went down a needle size, did some extra decreases) and it was still a piece of cake!
I decided on the Oak Ribbed socks from Knitting Vintage socks for my
Springtime
yarn. The colors are so vibrant! I'm making them a couple inches shorter than the pattern calls for and I'm almost to the toe on the first sock so I hope to be done soon. I'm also working on
Orangina
in Debbie Bliss
Cathay
. I'm really enjoying the combination of the pattern and the yarn.
Movers will be here next Monday. I've been doing some thinking about what projects I'm going to take and what I'm going to have packed away. This is an important decision considering we probably won't see our stuff until the end of August, and you know that the one thing you don't have with you is the one you'll have the urge to work on (even if you hadn't touched it in months!). Right now I'm thinking
Picovoli
,
Ruby
, Raspy from Denim People, some linen for towels (thanks Mason~Dixon!), and some sock yarn. I hope to be (at least almost) one with Orangina by the time we leave the area on the 10th. Of course this list is subject to change between now and then, and doesn't include any yarn purchases that are made after out house is packed up :o)
Next time I'll have some pics of the thoughtful going away gifts I got from my knitting group. Those girls are the best!
So much to do this week! The busy household will be just that.