that she's already been worn...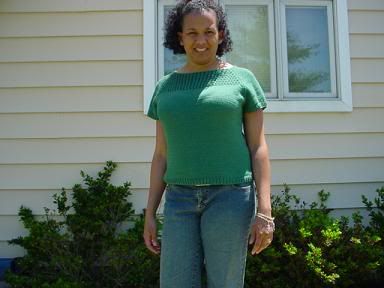 Not the best picture but hey, it was really windy and that was like take 7. Did I tell you my photographer is 5?
The specs~
It's the
Green Gable
pattern from ZephyrStyle. The yarn is Brown Sheep Cotton Fleece in Wild Sage (a little less than 3 skeins) and the needles were Addi Turbos in a size 6 (Addi Naturas in a 4 for the ribbing). I used the long tail cast on which apparently was an 'alternate method' (who knew??) but my neckline is plenty stretchy, purl ridge and all. I made the body longer and did an extra row of ribbing. I made the 36 but probably could have done the 34...I did a LOT of waist shaping! If I were to do it again I'd knit a smaller size, but I am happy with the way it fits.
Would I recommend the pattern? I'm not sure. While I love the finished product, if you ask me there was some significant stuff left out...a lot of people had problems. You can read about a lot of it
here
. I was able to tailor mine to fit, but if I was brand new without the help of any other knitters I'm not sure it would have been such a quick and easy knit. If you're comfortable with making your own mods then go for it!
*~*I got mail!*~*
Look what I got...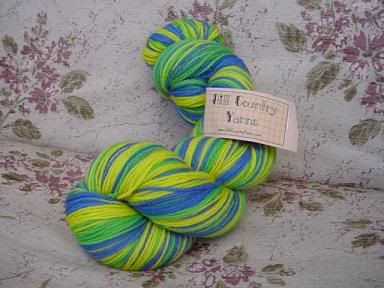 It's a skein of
Sweet Feet Sock Yarn
from Hill Country Yarns. They put out a call for test knitters and I happily obliged! The color is Springtime and that's exactly what I thought of when I opened the package.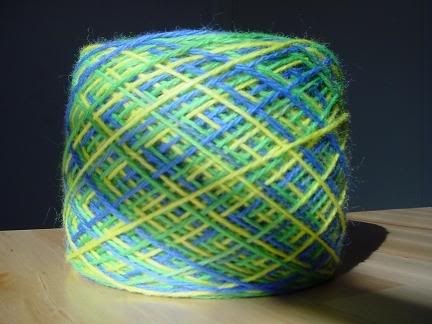 I plan to cast on tonight during the season finale of 24. Something simple, to showcase the colors. Maybe the Dublin Bay socks, or one of the ribbed patterns in Vintage Socks.
I still have a Madder Ribbed sock in progress as well as a
Bijou
scarf for my mom. The sock is on hold because I want to get going on this sweet feet!
Two weeks. Two weeks and I won't be living in this house anymore! It seems weird.
Anyway, here's a pic of my two big boys because you guys haven't seen them in a minute :o)