That's what the news is saying. Welcome to southern TX winter I suppose. I don't know, but where I'm from 30 degree temps and a little freezing rain don't shut the city down. Not only are the boys home from school, but the hubby is at Blockbuster right now picking out some movies since the base was shut down as well.
All this whoopla is hampering my blog updates. The weather has been too crappy to get any good pics of what I've been up to. Not to mention how hard it is to take pictures of yarn and fiber when everyone is home.
I've been knitting. I finally finished my Madder Ribbed socks out of the Claudia's Handpaints yarn. I've started a pair for DH...the Gentleman's Plain Socks out of Vintage Socks using Mountain Colors Bearfoot. I have some other stuff going on too, and some (sort~of) knitting resolutions.
I've been spinning. I *heart* my wheel and spinning is so.much.fun! I've got lots to play with in loads of colors from
The Spunky Eclectic
, and I'm waiting on an order from
Crown Mountain Farms
. I still don't really have any idea about ratios and whatnot, but the stuff I'm producing looks like yarn so I'm happy. Maybe I should get a book.
I do have a picture for you all, though not fiber related.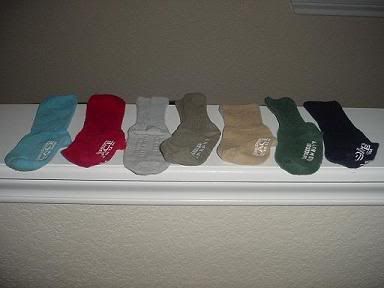 How does this happen, really? After this picture was taken I found another sock~a black one. Maybe the dryer heard me bitching about laundry duty and decided to teach me a lesson?