Greetings and Salutations!
Today, as promised, I present to you my little guy in his finished hat...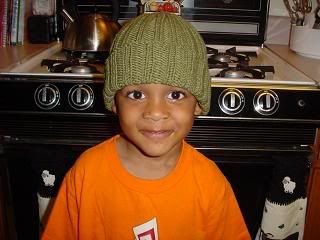 He really likes it and I am just happy to have another FO that came out as intended :o)
A friend of mine (who lives far away) had a baby last month. I decided a knitted gift would make a perfect gift and made a version of the umbilical hat from Stitch 'n Bitch...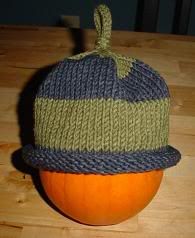 It only took about a day and a half and I was able to use up a lot of the yarn that was left over from the boys hats. Boy do I love that Rowan All Season's cotton!
I'm still working on DHs hat. I don't think I like the Brown Sheep superwash. When I first sat down to work on it out came this, this...lump from the center of the ball. It was matted and SO not salvedgeable (is that a word, and if so did I spell it right? LOL)! So I had to frog, CUT the yarn (!) and start again...and it still doesn't look right. Well to me anyway. I'm thinking of scrapping the yarn altogether and getting something I like to work with. One of the balls I can exchange for something else but the one I used is a lost cause. Anyone have any ideas on what to do with 97% of a ball of Brown Sheep superwash? Anyone want it??
I'm planning on making a felted bag. Actually it might be a partially felted bag(can one partially felt something?). I got some Rio de la Plata which I know will felt but I also wanted to use some beautiful stuff from the Himalayan Yarn Co. and it is only 60% wool. Not sure if that will work so I will be busy felting swatches later. If the blend won't felt on it's own (I was going to do some kind of striping), I will just buy another hank and knit with both yarns throughout. I should have some progress to show next time!
Still waiting to get my car back. All I can say is thank goodness for our $250 deductible because not only is there significant damage but I need new tires as well..*sigh*..I'll just be glad to get it back!
Take care everyone!!