The nerve of football...that's right, football! I had to wait until midnight for 'Desperate Housewives' to come on. So here I am, up past my bedtime *sigh*
I figure this is the perfect time for me to introduce Phoebe. We got her back in May from
here
and her name was Illinois. The people at the shelter said they get so many cats they start running out of names~how sad is that? She spent all of her life up until a week before I got her on the street. They think she was about a year old. She was quite skittish at first but now she is the princess of the house~you know the type, has to sleep on the bed and refuses to wear her collar? Who is the queen you ask? Well me, of course!
Anywhoo, here she is. She had to come and investigate...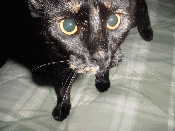 then took a second to pose...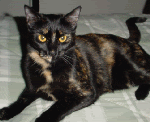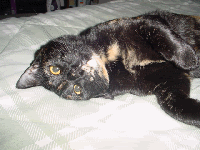 and then decided she'd had enough...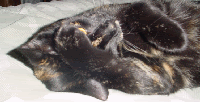 Ain't she cute?
On the knittin' front...
Not much action. Almost done with the birthday scarf. I'll post a pic when I am done. I've got so much I want to do and not enough hours in the day. I am determined to teach myself how to knit a sock before this year is out!