Here are my finished Sockapaloooza socks...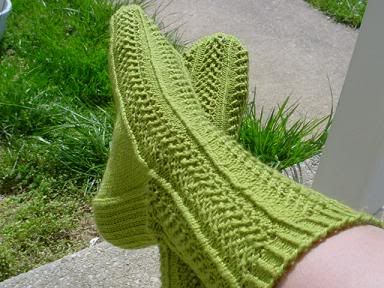 The yarn is Dalegarn Baby Ull and the pattern is
Hedera
from the newest Knitty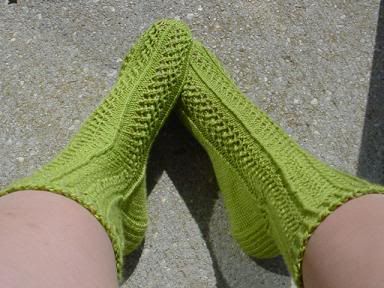 The pattern is great...very stetchy and seems like it will be comfortable to wear (forgive me pal for trying on your socks but it was the only way to get a good pic of the lace!)and is the perfect color for Spring!
Here's the heel...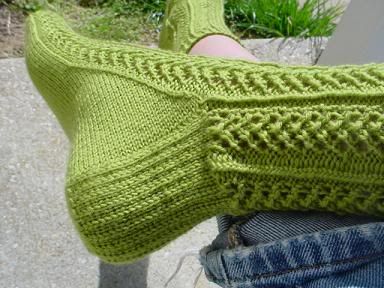 I took a picture of everything packaged up but afterward I noticed that my pal's name was COMPLETELY visible...duh! Anyhow, I used one of the really cute Sockapaloooza labels and also sent some stuff native to the area AND the military. I hope my pal gets her package soon and that she likes what she finds inside :o)
It's May and that means green for Project Spectrum! Guess I started the month off right by posting pics of my very green sock pal socks. Now that those are done I've got another green project in the works....Green Gable. In, well...Green! LOL! Going well so far. I cast on last night and I'm halfway through the lace in the front. There seemed to be some collective confusion on the
KAL
about the neckline/cast on edge, and then the designer told us the pattern said something that it most certainly did NOT (hence the collective confusion). Some ripped, some didn't, but all of them look awesome!
BTW I'm in the 'didn't rip' camp of course.
Sheep and Wool
this weekend. Who's going? I most certainly am, they're gonna have funnel cake